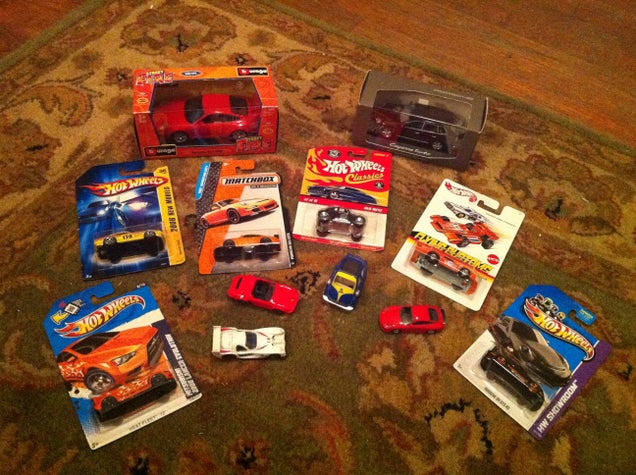 S
Since everyone's posting theirs, here's what's around my place:
- 2008 Mitsubishi Lancer Evolution X (from the Mitsu dealership where I bought the Lulzcer)
- Datsun 240Z (from the owner of the yellow 240Z I co-drove for a local time trial)
- Panoz GTR-1 (found at grandparents' house; well loved but sits on my desk)
- Porsche 911 Speedster (also sits on desk)
- BMW Isetta (originally given to grandpa; now sits on my desk)
- 996 Porsche 911 (not labelled, but looks turbo-like; also sits on my desk)
- 2007 Porsche 911 GT3
- 997 Porsche 911 GT2 (bigger model brought over from a friend who lives near Stuttgart...ha ha, I asked for a red 911?)
- Baja Beetle (...in purple!)
- Porsche 935/78
- Cayenne Turbo (gift from PCA white elephant exchange; also purple!)
- 997.1 Porsche GT3 RS
There seems to be a theme here, but I can't place it...
There's a red Evo, a red 911 Cabriolet and an orange 997.1 GT3 RS at work, too, plus who knows how many random cars at my parents' house.
I tell people who need to find my cubicle that it's the one with the Porsches and the cow.
I kind of want to unbox some of the other cars, heh.