Ok ya'll it's time for the first installment in garage mechanic lessons. The test subject of all these posts is going to be my 1974 Chevy C10 with a 454, ScarJo. That's why the posts are going to be tagged both "Garage Mechanic" to follow the posts and "truck project" to follow ScarJo. Today's how to is about INTAKE MANIFOLD INSTALLATION, CARB INSTALLATION, RESETTING TIMING, and then, CELBRATORY BEER DRINKING. I'm going to try to be both witty and informative, and while I consider myself both of those in person, we all know the internet translates humor poorly. That, and I'm an engineer, so I don't have great writing skills.
Ok. So step one, remove all the old shit. That means disconnecting all the vacuum and fuel lines going to it (try to have a vague idea of where these go for later), remove the throttle return spring, and all stuff like that. Unbolt the carb, look at it funnily, then put it in the garage. It's a Quadrajet (I know I know, some purist is going to get their panties in a bunch because 'Dude, the QuadraJet is the best all around carb. Just get a professional to rebuild it and tune it for you for $600 and you're set. Definitely don't spend half that on a new Edelbrock unit!!!'), so you might be able to sell it back to said purists. Then, unbolt the intake manifold. Oh, but first, take the distributor out. To do that, just undo the bolt that holds that tab down, and pull the dizzy out. Ya know, pull the spark plug wires out, disconnect everything. Oh but BEFORE you pull the dizzy off, use a sharpie and mark on the valve cover approximately where the vacuum secondary port points out as well as where the number one point on the dizzy is. This will help get timing approximately in the right place later.
Ok, so everything except the intake manifold is off now. I don't even know why I'm taking so long to explain all this. Just get unbolt everything. You should be done with two beers when everything's off. But fine, unbolt the intake manifold and continue. Once all the bolts are out, get a friend, because this bitch is heavy. Lift out the cast iron unit, and set it aside. Or tie it to some chain and make a boat anchor, you're choice.
Alright. Now you're two beers deep and realize that you took off way more than you were expecting. I mean, shit, you can see your camshaft! That can't be good. Get a vacuum though, and vacuum up any debris. Also, get a utility knife blade and scrape off some of the garbage that's built up on your intake port surface on your heads. Keep a buddy holding the vacuum so that you don't drop debris down in the engine. If you do, no worries, we'll do a coolant and oil flush later.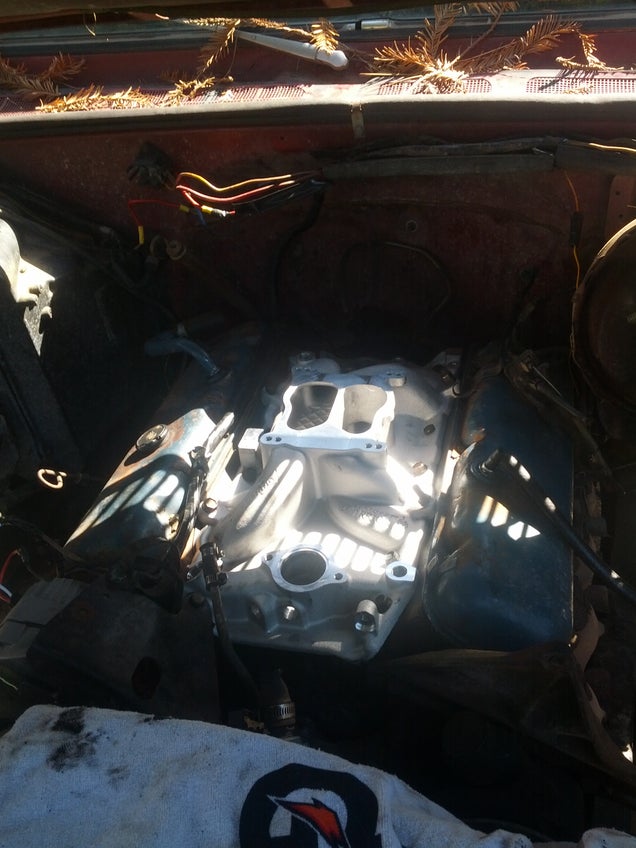 S
So now you have a clean head surface, and a shiny new aluminum Weiand intake waiting to go on. Oh, you got an Edelbrock? Ok fine. You have one of those. Now, go get your intake manifold gaskets (I used Fel Pro units, they're nice). Read the instructions. My gasket set came with cork end gaskets. So I was planning on using them. BUT FIRST, read the instructions that came with your new intake. They say DO NOT use the cork gaskets. Ok, I guess I'll trust the intake's instructions. Put a dab of black RTV (silicone sealant) on the bottom of the gasket surface, line up the ports and the bolt holes and all that and make sure you have the right gasket. Then, follow instruction, but in general apply about a ¼" thick bead of silicone along the front and rear seal surfaces. Apply extra at the corners between the front and the side gasket surfaces.
Before everything dries, drop the new intake in. You can already tell this is making your car better because it's about 20 pounds lighter than the stock manifold. And you can do it without friends. Thread in all the bolts without torqueing to spec, then torque to spec. This is important because you need to have no vacuum leaks in your engine.
Alright, time to start putting things back on. I think now would be a good time to get the timing figured out, because the carb isn't in the way. That's not what I did, but for the sake of a good writeup, we'll do timing now.
So, the engine needs to be at Top Dead Center (TDC). If you're lucky like me, your engine has a harmonic balancer with timing marks. If not, I can't help you. At least not now. So, everybody knows an engine has 2 TDC's right? Oh you didn't know? Ok, no worries. So TDC is when the number one piston is at the top of it's stroke. Because engines have 4 strokes (intake, compression, combustion, exhaust), the piston will be at the top of it's stroke twice—once after compression and once during exhaust. To get the engine to TDC at it's compression stroke, which is where it needs to be to set timing, you need a buddy. You crank the engine over either by hand or with the starter, and have your friend hold his finger over the number one spark plug hole. When air starts being pushed out that hole, you're on the compression stroke. Stop turning the engine over, and crank it over by hand until the 0 degree timing mark on the harmonic balancer lines up with the 0 degree mark on the timing plate. This is TDC on the compression stroke. Pat yourself on the back, this is an important step. Grab a beer. Sip. Move on.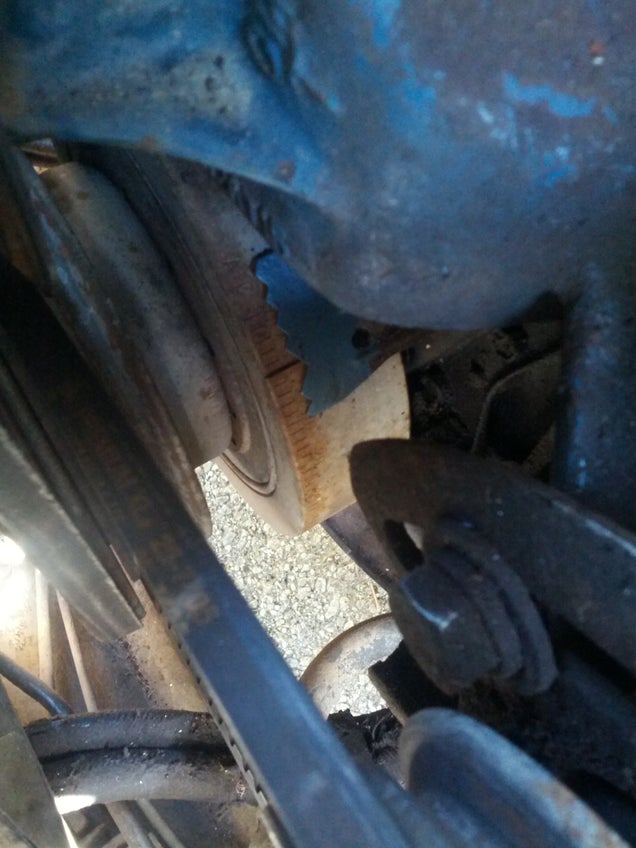 S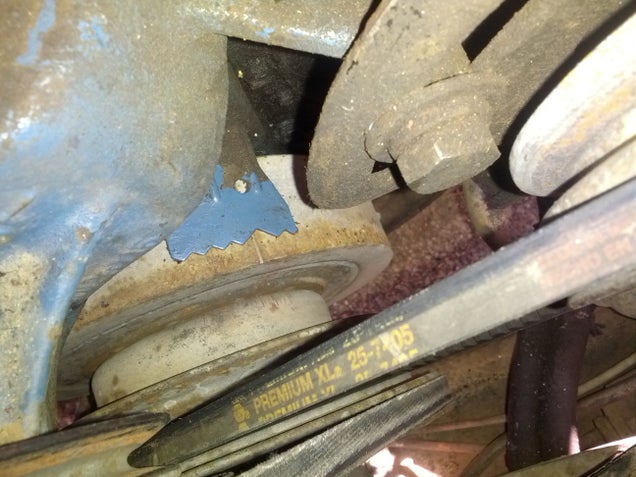 S
So look in your Haynes manual or equivalent book, and see that when the number one piston is at TDC, the rotor on the distributor should be pointing at the point for the number one spark plug. Your distributor is out of the engine now, so go ahead and set it in so that it's pointing in the right place. Now, if your distributor makes no sense like mine, it will have this little flat keyway in the end of it. This keyway drives the oil pump.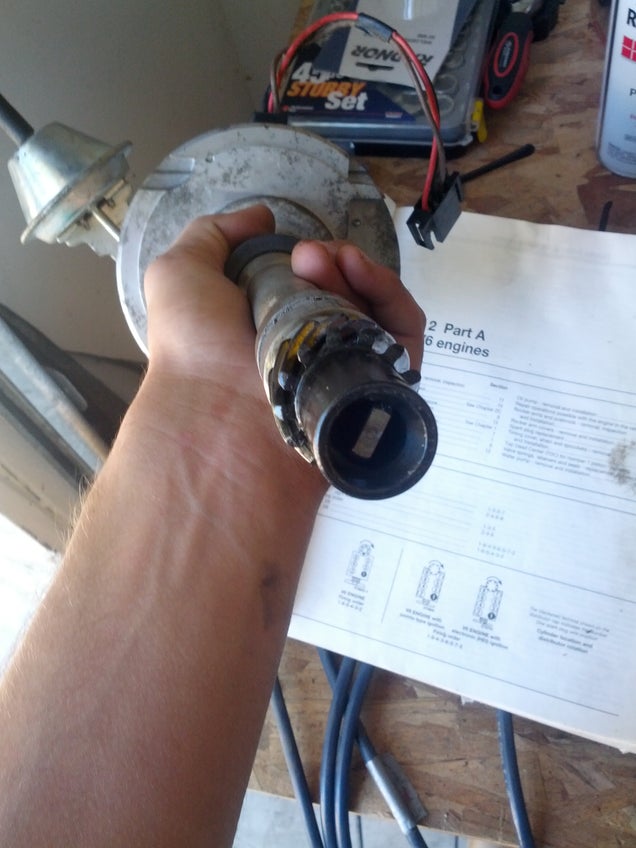 S
Thing is though, it prevents the distributor from sitting down all the way. So spin the rotor around a bunch, twist stuff, and in general just fuck around. I'm serious. I have no idea what I did to get the dizzy to sit down all the way in the right place. It kept getting hung up, then out of nowhere (after plenty of twisting), it sat down. Ok, weird, but awesome, that's done. When you put the dizzy cap back on, realign the vacuum port with your sharpie mark to get timing within a few degrees.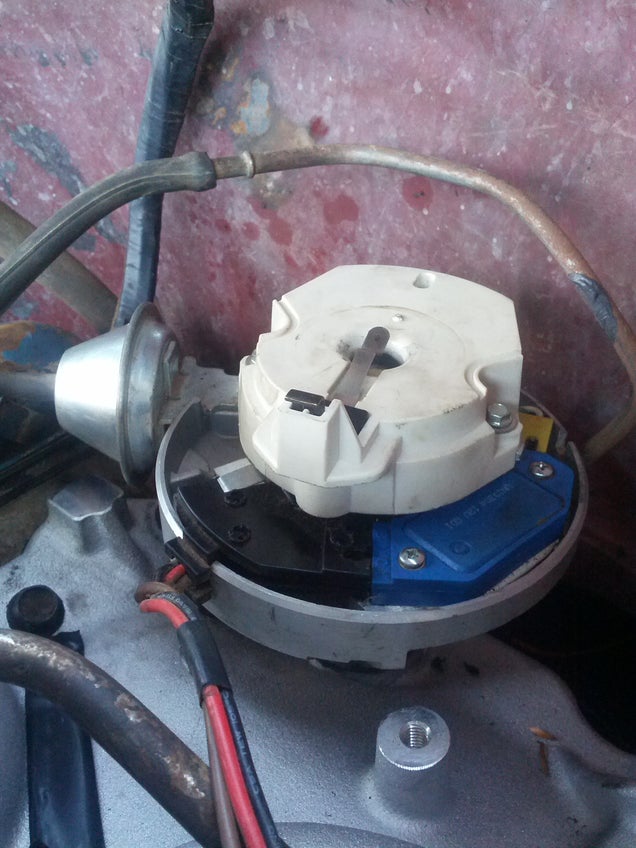 S
And quite frankly, that's the hardest part of it all. Now, take your shiny carb, bolt it on, and try to remember where the hell all those vacuum lines are supposed to go. Yea, I told you you should remember. For anyone that cares, I went with a 750 cfm Edelbrock 1411 Performer Series carb. It cost about $320, and ran right out of the box. Get them all hooked up where you think they need to go, and then call it good. Wire up your new electric choke (seriously, if you get a new carb, spend an extra like $10 and get one with an electric choke. Being able to not have to sit in your truck and feather the throttle till the engine warms up is AWESOME). Connect fuel lines, make sure everything is back on, and sit back, enjoy a beer, and look at all the cool shiny shit on your engine. Go ahead, take a picture or two.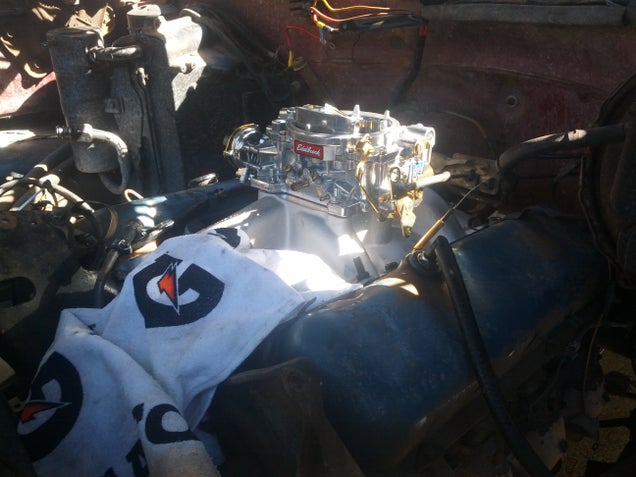 S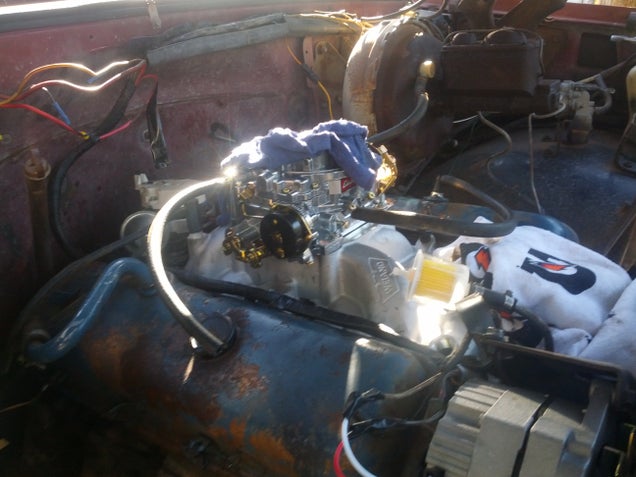 S
Connect the new spark plug wires back on in the right order (1-8-4-6-3-5-7-2 if you're a BBC guy and now have that memorized). Oh yea, put the spark plugs in first.
One last check, make sure all you need connected is connected, and then start praying. Or doing some sort of ritualistic dance. Or just drink another beer. Connect the battery (Shit, that should have been the first step. Ok, start over and disconnect the battery). Turn the key. It most likely wont start right away because fuel needs to get to the carb. Keep cranking. Listen. Does it start right up? Cool, you guessed timing right! If not, twist the dizzy a little, and try cranking again. It started this time, didn't it? Hell yea it did, because you're a badass garage mechanic. Drink plenty of beer. And take a video. And then try to do a how-to writeup for Oppositelock.
Next week (these won't be weekly. They'll just be whenever the hell I want) we'll go over actually timing the engine. Because while it started, that's just a ballpark estimate. You need a timing light and a buddy or two to get it timed right.
That's all for now. Hopefully this was informative and or entertaining for someone. If not, whatever. I've had a few beers by now, and I could care less.
Enjoy my video.