S
Technical innovation is what makes Formula 1 so different from any other form of racing. The on track action is as much played out by the engineers and aerodynamicists as it is the drivers. We are here to admire, study, and discuss this beauty that exists on the ragged edge of what we think is possible, or at least what we thought was possible. Be sure to check out Jerez Testing Day 1.
Discussions and questions are welcomed and encouraged in the comments section below.
Testing Day 2 - Jerez, Spain
Red Bull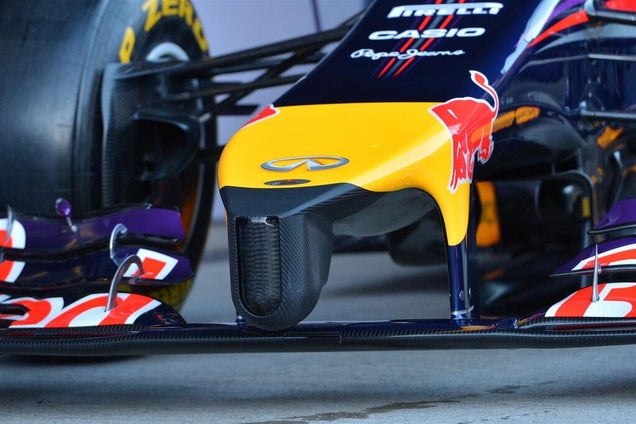 S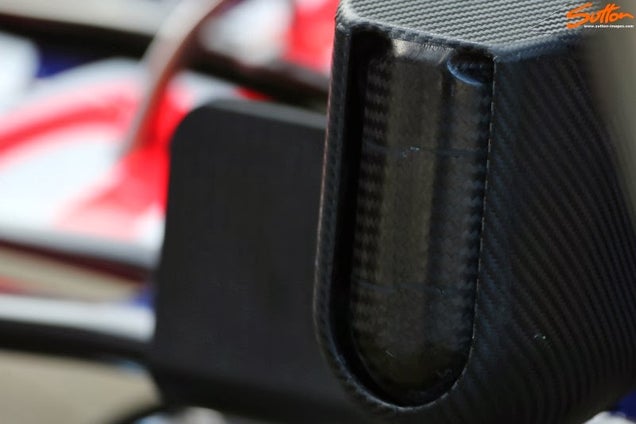 S
This is the nosecone of the RB10 chassis; it seems to contain some sort of strange cooling inlet.
Ferrari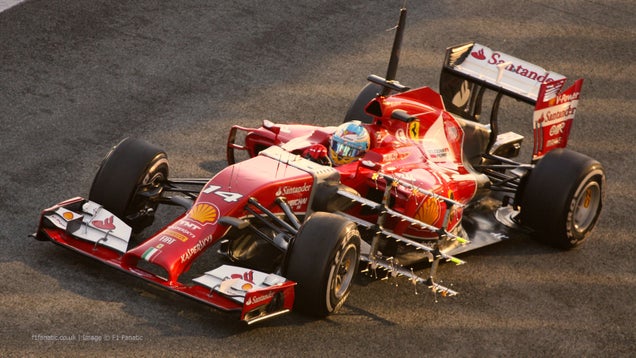 S
Ferrari pitot tube testing their implementation of the F14T's front wing by measuring the air pressures rolling around the front tire.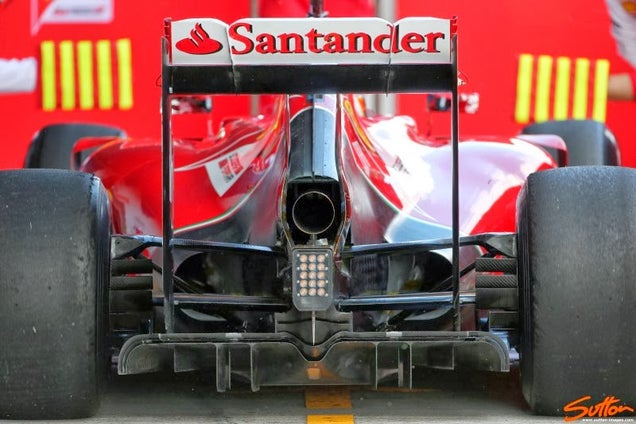 S
F14T rear-end detail.
Mercedes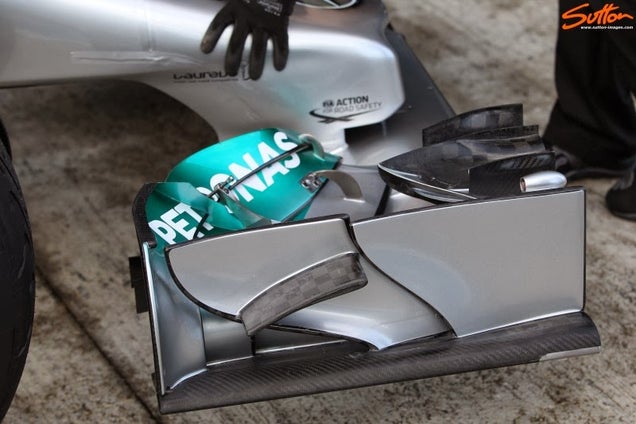 S
Interesting downcut winglet on the side of the W05's front wing.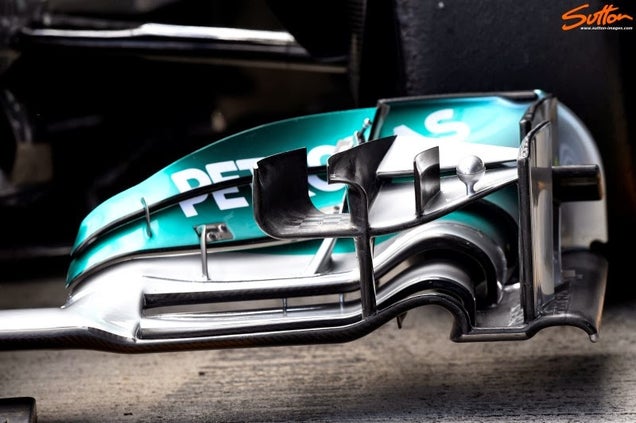 S
Mercedes W05 front-wing detail. The silver blog on the top element is most likely an infrared tire temperature sensor.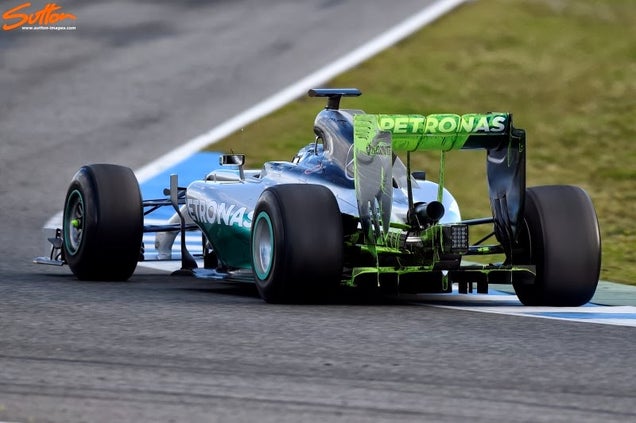 S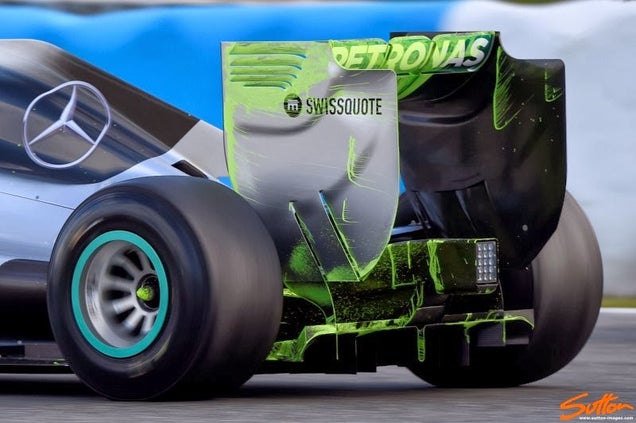 S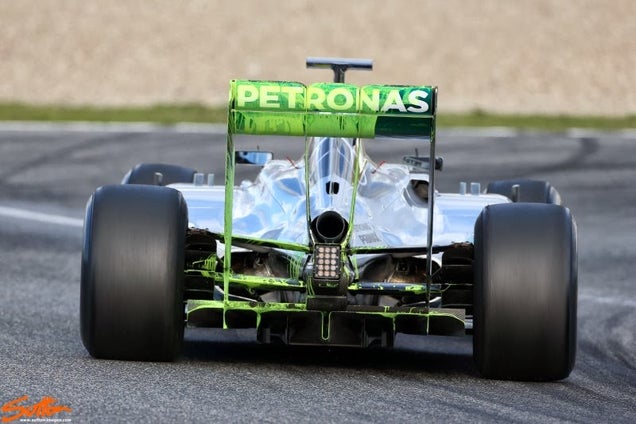 S
Getting crazy with the flow vis.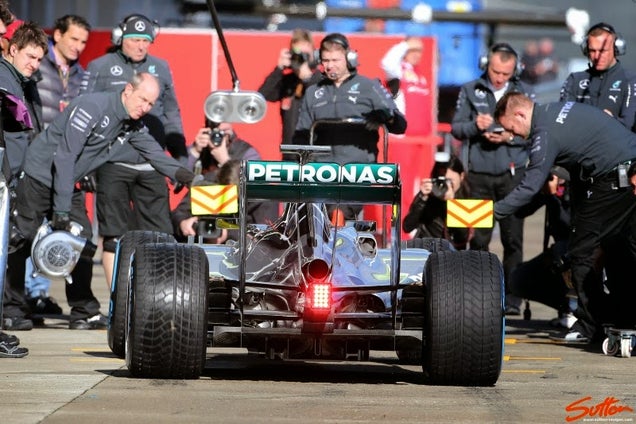 S
McLaren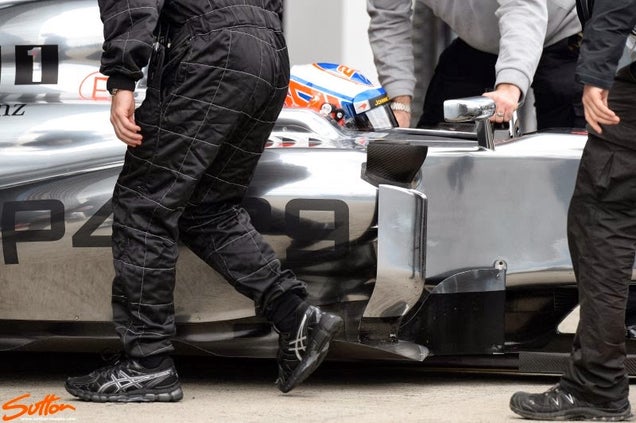 S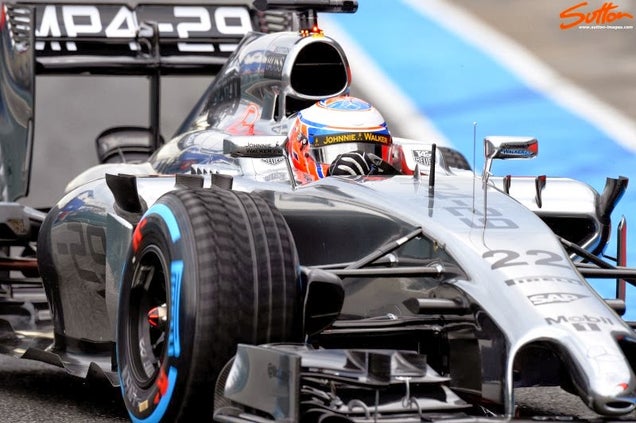 S
The black vanes on the top corner of the sidepods of the MP4-29 exist to vent hot air out from underneath the bodywork.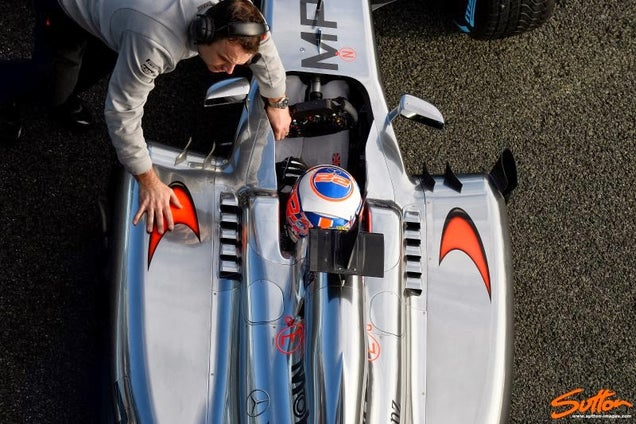 S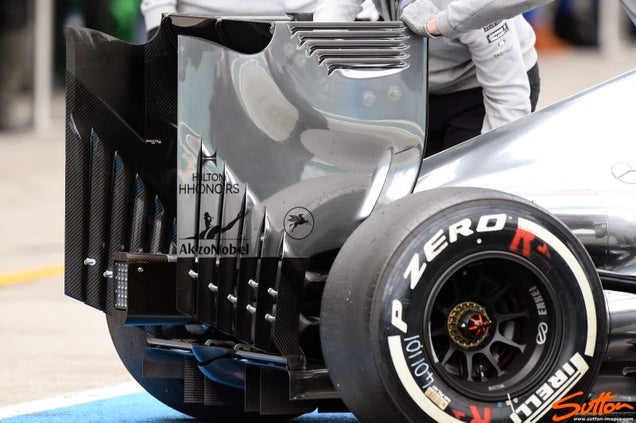 S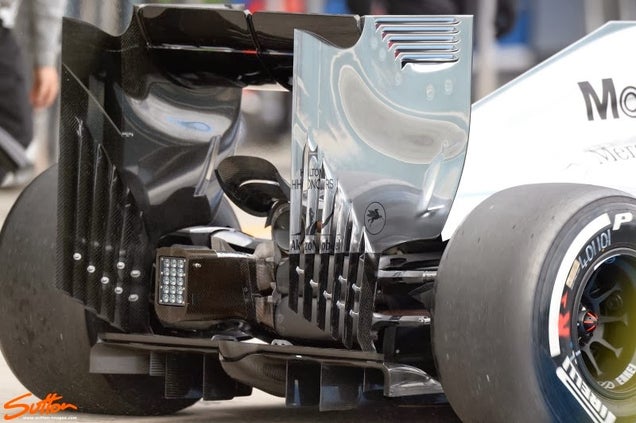 S
Deeply cut strakes on the rear wing endplates, possibly to manage tire squirt or create a lower pressure zone for the air exiting the underside of the diffuser.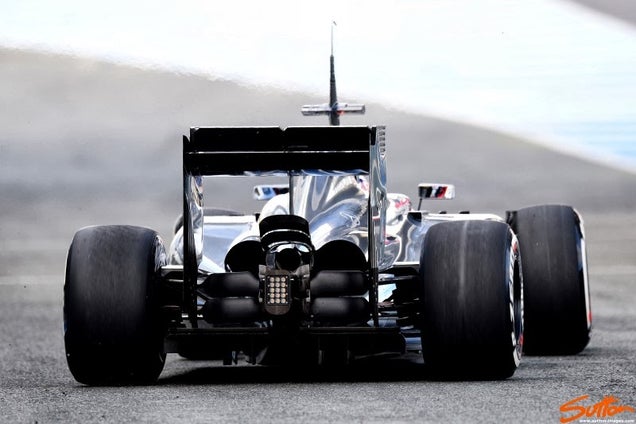 S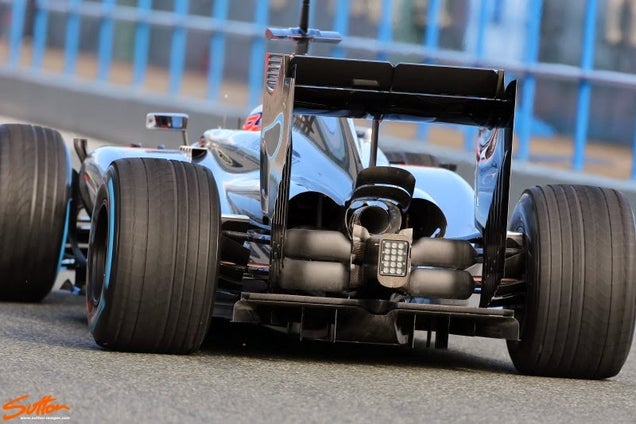 S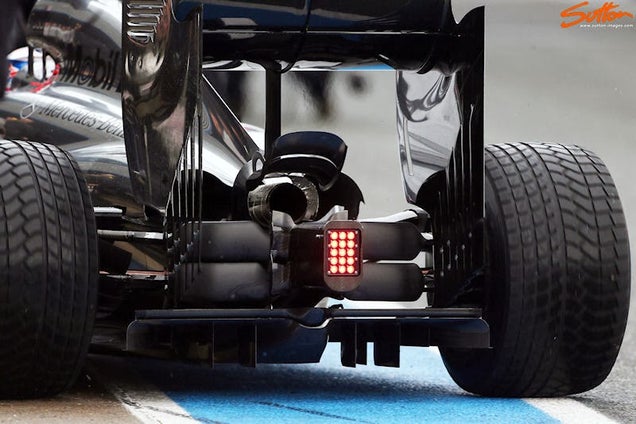 S
And finally we come to the un-thusly dubbed Wishbone Wings (also currently referred to as a Butterfly Suspension).
The aerodynamics of the suspension aid the connection of the rear wing to the diffuser, much as the beam wing would. The wishbones in cross-section look like a silhouette of a mushroom on its side, with the head rearward facing. The wings are then pointed upwards at a slight angle (F1 technical has numbers somewhere around 5 degrees), so that the mushroom head imitates somewhat of a Gurney flap.
This system obviously creates more drag for the McLaren chassis, but another smaller wing just below the wishbones helps flow the air up behind the the wishbones.
More a more concise explanation, read Matt Somer's explanation or a more technically enveloped post on F1 Technical.
Force India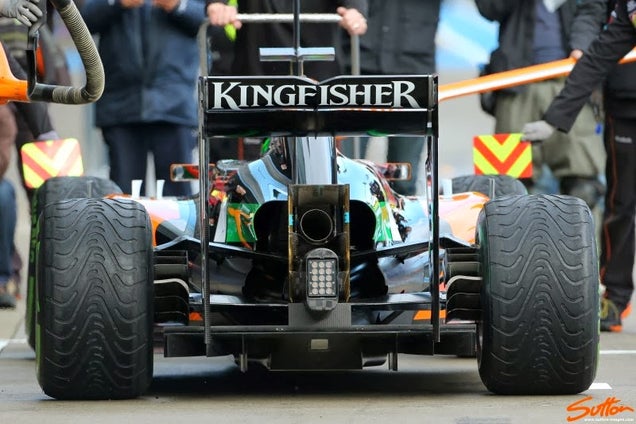 S
VJM07 rear-end detail.
Williams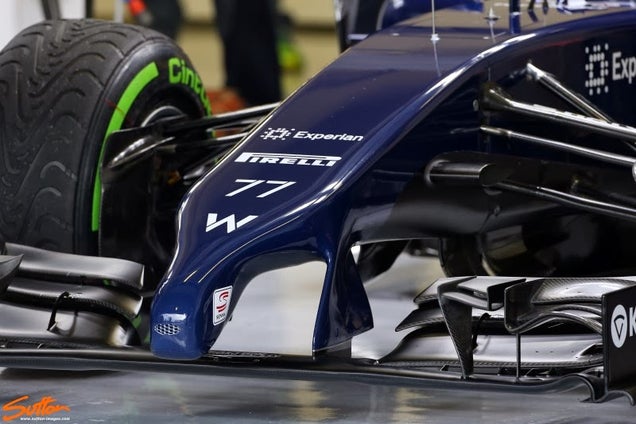 S
Williams FW 36 nose detail. The miniature gated grill inlet is for driver cooling, and possibly other miscellaneous cooling among some front-end elements.
[Select images from Somers F1]