S
Being my last weekend before heading back to school, I decided to head down to the DC auto show with my dad (since the Baltimore one is horrible in comparison). It's quite a joy being able to see all the new cars in one place, so I'll share some of my thoughts about it below.
First, being a Corvette guy, I'll discuss what I think of the C7. It's not the first time I've seen one, but is the first time I have sat in one. I felt the interior was a huge improvement over previous Corvette, though compared to the Jag F-Type and other European sports cars, it is still lagging, which is totally okay, since it starts at less than 50k. I was most disappointed with the hard gray plastic on the center console. The seats, however, were a pleasant surprise. They felt sturdy and were nice and snug. I also got my first glimpse of the Convertible and think it looks stunning in white. I'm normally no fan of white cars, but it just works on there for some reason I can't seem to put into words.
Other cars that left an impression were the new Cherokee, the Fiat 500L, every Mazda, and Infiniti. I thought the new Cherokee looks much better in person than it could in any picture, especially in Trailhawk trim. I wouldn't have any problem recommending one based on looks alone, though I'd still take a Mazda CX-5 over it. The 500L was the car that surprised me the most at the show. I had very low expectations for it, but after sitting in it and seeing its price point, I started to like it. Well laid out interior, decent materials, awesome visibility, starting at under 20k, it was pretty nice. Speaking of nice, Mazda makes one heck of a product now. I've driven both the Mazda6 and CX-5 and loved both, and think they nailed it again with the Mazda3. All of them are great looking cars with pretty decent interiors and great gas mileage. They also happen to be relatively fun to drive, always a plus. The one thing I couldn't stand about them is the goofy screen they tack on to the top of the dash (Mercedes does this too). I know they're trying to make it look like a tablet (which is what the MB rep called it), but it just looks tacked on and cheap. Would have much preferred something built into the dash (Acura does a nice job of this).
Finally, Infiniti. Oh Inifiniti. What the heck is Infiniti doing? They have no identity and seem to be a jumbled mess of sporty old Infiniti and what they are trying to be with the Q50 and JX. Sitting alongside their newer, more refined (read: softer) cars, were the EX (don't remember what it's called now) and a 2013 G37 (which I like more than the Q50). Then they have their goofy giant SUV and the FX, which is supposed to be the sporty SUV that doesn't much. Not to mention the Q70 (M) which has been around for a while and really needs and update. I'm really dissappointed with Infiniti. I have a 2006 G35x and love it. I liked what they did when it got updated in 2007. At least then the brand had an identity. They were the sporty cars with the raspy exhaust. More lighthearted than a BMW, more fun than a Lexus. Now, I just don't know. Please find your way Infiniti.
Oh, and there was one nice surprise at the show. A Shelby Daytona Coupe. That was unexpected. Here's a picture of the beauty from my potato phone (aka a Motorola).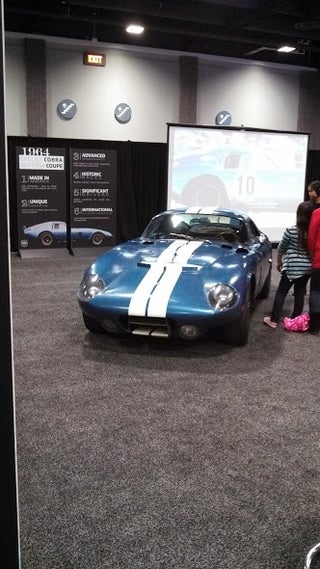 S
Also, comments and criticism on my writing are more than welcome, since writing is not really my forte, so I'd love to improve.