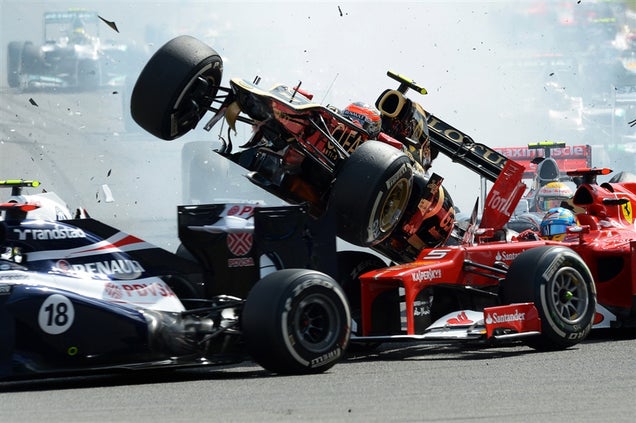 S
KXAN, the local Austin NBC affiliate, did a report on the safety of F1 cars Sunday night. The story started off with anchor Robert Hadlock making the following dramatic statement: "Since 1952, forty-nine drivers have been killed in Formula 1 races around the world. So far, the COTA track has avoided scenes like this." [video of Robert Kubica's brutal crash in Montreal]. "But in past decades, safety has sometimes taken a back seat in F1 competitions." [Really?]
Cut to interview with "former race car driver Rodrigo Sanchez" [who?] standing next to a Williams F1 car, who said, "Just in the last 10 years, improvements in safety have been tremendous." [Okay] Interspersed with more video of F1 mayhem, including lots of shots Grosjean flying over Alonso at Spa, the report continued with discussion of carbon fiber tubs, fuel cells, HANS devices, etc. Good stuff. But then Hadlock closed with this corker: "And the last fatality in a Formula 1 race was 11 years ago in the Czech Republic, when a driver's car became airborne." [WTFBBQ??]
This is what happens when you do your research on Wikipedia. If you type in "F1 fatalities" you get a Wikipedia page that does, in fact, list two deaths after Senna's in 1994. But you have to actually read the article, not just look at the table. Above the table the article states, "This list includes drivers who have died during a FIA World Championship race weekend, and those who have died while driving a Formula One car outside of the World Championship." So the table lists John Dawson-Damer, who died at the 2000 Goodwood Festival of Speed (also killing a marshal and seriously wounding another) while driving a Lotus 63 , and Fritz Glatz, who died in 2002 in a EuroBOSS event driving a 1996 Arrows Footwork FA17 at Autodrom Most in the Czech Republic.
I think it's great that the local news is doing reports on the upcoming race. Local awareness and interest is important to the continuing support and success of the race. But if you're going to do a story on F1 safety, how can you not even mention Senna, or Ratzenberger, and their legacy of safety improvements? It's lazy journalism, and it's a real shame.
You can view the report on KXAN's Website.