I got the Cayenne with about 40k on the clock. I first had it in San Francisco which made it feel huge – if the mirrors did not fold I would not have been able to back into my garage. On that note … it is a big car – but big inside as well. The back seat can be a little tight but only when you let the front seats stretch all the way out – really get that gangsta position. Though the Cayenne is big for the world of Porkers, it really is a quite easy car to drive. In SF the hill hold was great. As was the turning radius and the side-view mirror parking feature (turn the mirror adjustment selecting the passenger mirror , put it in reverse and the passenger mirror turns down to give you a view of your inner rear wheel. Coming from a 98 Grand Cherokee this is novel)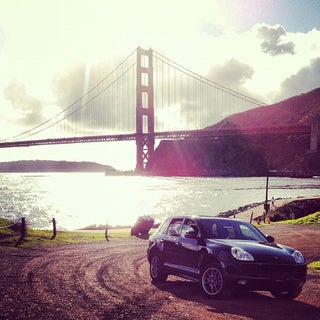 S
There is a bit of throttle lag in the first gen Cayenne. The first little bit of pedal almost feels like slipping a clutch and then there is a catch there after – you can really feel this on a hill. In standard Drive it starts in second gear which is very smooth – first gear is VERY jumpy … and pretty fun. It is a drive by wire car so the throttle feels a little too light for me at times.
So speaking of first gear, if you wish to 'get at it' in the Cayenne you can always put it into manual Tip mode. You can also press the PSM OFF button. This wakes the truck up and turns off some traction control functions. It will select first gear at every stop and hold gears longer. Pitch a Cayenne into a turn with PSM OFF and you can have a hoot. You can feel the front end bite and you can make it rip with a good bit of confidence. But for how smooth this rig is at normal driving PSM OFF will remind you of its muscle. Roll down the windows and the sound will remind you too.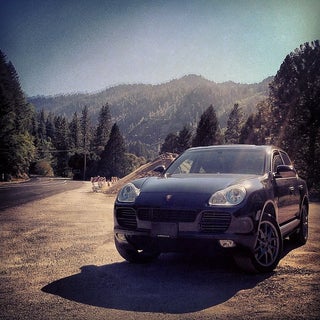 S
Highway cruising is fantastic – feels solid at all speeds. On long drives the cruise control is very easy to use and intuitive. The seats are very adjustable and comfortable with plenty of space. It is very easy to drive with haste. I drove the Cayenne from San Francisco back to Kentucky with a U-Hail in tow. I was very impressed how well it did with a 40 hour cross country drive - I already had very high expectations being a self-exclaimed Porschephile.
The brakes give you a good bit of confidence – again keep in mind I moved up from a Grand Cherokee … maybe the antithesis of Porsche brakes. Whenever I give someone the ones and twos in the Cayenne the brakes are the most impressive. It just STOPS.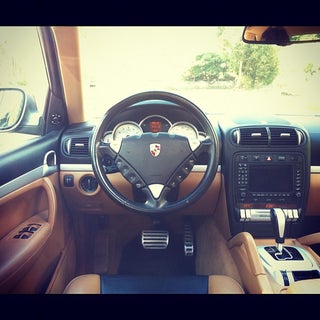 S
Creature comforts are there. Auto wipers are something I never want to live without now. Seat warmers are crazy good – steering wheel warmer too. Sirius XM is a must in my opinion – there is no iPod hookup or aux input. Early Porsche Communication Management systems were a bit archaic in my opinion. Oh, and no BlueTooth. Bose sound system is alright and gives the usual Bose sound. I have developed a few rattles (which is very upsetting!) in/around two speakers. Navi is actually run off a DVD compartment under the Passenger Seat and is very easy to use.
On to maintenance. It isn't a cheap car to own. Parts are expensive as is labor. So when looking here are some mechanical things I have run into. My Coolant Pipes burst – factory units are plastic. There is a warranty out (doh!) to upgrade to aluminum pipes – luckily Porsche stepped up to the plate and helped me out. Make sure this upgrade been performed. After 60k Plugs and Coils are to be replaced. My headlight position sensor went out (located by the drivers rear wheel … what?) and had to be replaced twice. I do not know how much oil the 4.5 holds but standard oil changes are pricey. Tires are pricey too – but that's what happens when you choose Michelins.
My Cayenne originally stickered at $68k – I got it for nowhere near that. There are some very good deals out there on Cayenne's and I think they are a good bang for the buck. It does drink some petrol though.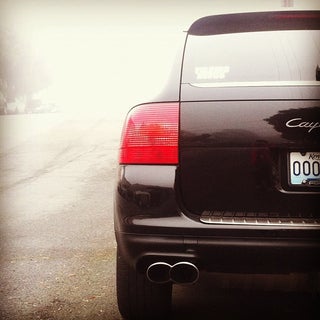 S
That is my little intro to Pepper ownership. Newjalop98 ... If you have any more questions or are curious about specifics feel free to ask.